28/02/2018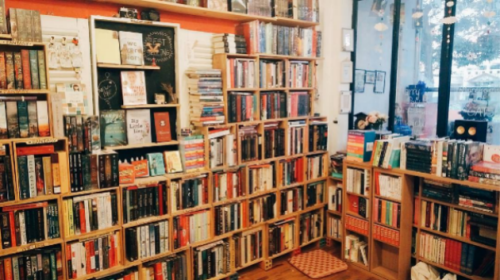 Seek comfort and get a peaceful respite in the city by being surrounded by books at these indie bookstores. Save this list for bookish excursions during your next trip around Asia.
Where: 194 Donggyo-ro, 1F, Mapo-gu, Seoul, Korea
Run by a Korean publishing company, this stylish store stocks more than good reads; it's also an event venue that hosts performances and lectures. And yes, it's named after the famed George Orwell book. Within the store, you'll also find chic buys from local brands and artists, as well as magazines in English. There's a cosy cafe within the store, with both outdoor and indoor seating so that you can settle down to read your newest book.
Where: 134, KHB Colony, 5th Block, Koramangala, Bangalore
Books and bread may not be an obvious pairing. But the combination works at this bookstore, which started with a focus on books in regional languages and literature while serving fresh bakes for shoppers within its adjoining cafe. Today, the bookstore has also become an event venue for theatre performances, workshops and book clubs; you'll also find its breads stocked at local supermarkets too.
Where: 6 Cong Truong Quoc Te, District 3, Ho Chi Minh, Vietnam
Image: @neo_ttaemune/Instagram
This cosy bookstore is nestled on the second floor of an old apartment building and is filled floor to ceiling with shelves of books. It stocks mostly books in English, as well as a selection of titles in French. Besides the popular self-help books and romance novels, the bookstore also stocks rare editions of new and secondhand reads.
Where: 9 Yong Siak Street, Singapore
This bookish nook which will celebrate its 11th birthday this year, is among one of the first indie bookstores in Singapore. It stocks essays, fiction and nonfiction books, while running publishing arm Math Paper Press. The bookstore also recently launched book vending machines, which hawk around 20 titles by local authors. You'll find these machines at National Museum of Singapore, the Visitor Centre at Orchard Road and Goodman Arts Centre.
Where: 41/4 The Jam Factory Charoen Nakhon Road Khlong San, Bangkok, Thailand
For more Instagrammable sights, this bookstore is a must-see. It's located within The Jam Factory compound and named after French philosopher Voltaire's classic Candide. You'll find a spacious store stocked with works by foreign and local writers in Thai; even after you're done browsing, you can easily spend an entire afternoon here at the adjoining restaurant and cafe. There's also an art gallery next door that you could visit.
Where: Shop H2, Prosperous Garden, 3 Public Square St, Yau Ma Tei, Hong Kong, China
Image: @kinki.ckk/ Instagram
Check out this stylish bookstore-cafe while you're in Hong Kong. It specialises in books on art, films, photography and culture; scoot over to its adjoining cafe to read your newest buy over a cup of coffee, or just to soak in the atmosphere and people-watch. It's also located right next to the city's most popular art house cinema.
Librairie Avant-Garde
Where: 173 Guangzhou Rd, Gulou, Nanjing, Jiangsu, China
Image: @packedtravel/ Instagram
Housed in a former bomb shelter, this underground bookstore may stock few foreign language titles but its unusual setting makes it such a must-visit. The cavernous space is lined with tables and shelves full of books on the social sciences and humanities. You'll also find a cafe within the bookstore, as well as ample chairs for you to sit and browse books, which makes this bookstore a popular stop for students and local bibliophiles.
Where: 4-2-12 Setagaya, Setagaya-ku, Tokyo, Japan
Image: @t_o_g_a_r_i/ Instagram
Are you hunting for an elusive out-of-print read on art and design? You might just find it at this secondhand bookstore, which specialises in books on design, photography, contemporary art. It also stocks a selection of essays and literary finds. You'll also find publications from the sixties to eighties within the store, so you might just find what you're looking for.
Where: Largo Senado No.31, 3/F, 1A Veng Heng, Macau, China
Amongst the sea of casinos in the city, it's admittedly not easy to find a bookshop. This gem of a find offers a homely nook for bibliophiles, with a view of the Senado Square to boot. Here, you'll find books on art and culture, as well as music albums, handmade notebooks and other cultural paraphernalia; you might just spot the two bookstore cats that lurk and lounge around the store too.
Poplar Kid's Republic Picture Bookstore
Where: Building 13, Jianwai Soho, 1362, 39 Dongsanhuan Zhonglu, Chaoyang district, Beijing, China
This picture bookstore caters to the young bookworms. Within the store, you'll find more than just children's books in English and Chinese; there are play areas and toys to keep the little ones entertained too. It's one store where climbing onto the shelves can be perfectly acceptable and even encouraged; the kid in you might wish you could join in the fun with the young readers too.
Where: 20-2F, Bangsar Village, 2nd Floor, Bangsar Baru, Kuala Lumpur
Image: @lotsofts/ Instagram
Here's a go-to for Malaysian literature. This bookstore and publishing house has been around since 1999 moved to its current location at Bangsar Village just last year. It stocks books on literature, philosophy, as well as Malaysian writing in English. You might just discover a surprising new author or two you've never heard of, for the bookshop prides itself in sussing out unusual finds from around the world.
Where: Huashan 1914 Cultural Creative Park, No. 1, Bade Road Sec. 1, Taipei, Taiwan
Image: @hiimiris/ Instagram
Located within the creative park, this bookstore is photogenic from almost any angle. While you may not find the latest bestsellers here, the store is a treasure trove of books on design, art, cooking, as well as arts and craft. You might just pick up a few cool souvenirs too, from its collection of vintage curios and cool design buys. Tip: check out the cosier sister bookstore VVG Something at Zhongxiao East Road for more creative reads.
https://travelinspirations.yahoo.com/post/149626788940/12-cool-indie-bookstores-in-asia-every-bibliophile