23/02/2018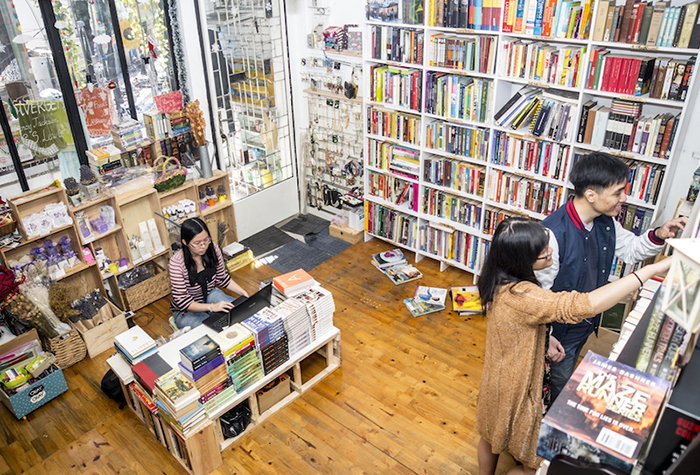 Two bookworms have opened an independent store specializing in English language books in Ho Chi Minh City.
Boa Bookstore is a bibliophile's hidden treasure trove, with the hidden part being almost literal. The address is number 6 Turtle Roundabout (Room C26, 2nd Floor, 42 Tran Cao Van or 6 Cong Truong Quoc Te, D1), though to reach the bookstore proper, you have to climb up two flights of stairs and navigate a short stretch of sooty hallways in an old apartment building. The room is number C26. The door is closed most of the time. Do not feel shy. Push that closed door open and inside you will find an apartment room stocked from floor to ceiling with books, books, and even more books.
The stock here consists mostly of English- language books with a smattering of French ones. Half are brand new while the other half are secondhand – all imported from the US. Titles run the gamut from young adult, romance, popular self-helps to finds few would expect from a Vietnamese bookstore such as Dante's Divine Comedy, HG Wells' Seven Novel collection, HP Lovecraft's Complete Cthulhu Mythos, and even a complete collection of Edgar Allan Poe's poems and tales in three different editions: hardback, hardback with illustrations, and Barnes & Noble Classic leather bound with silver or gold plated pages.
"Because we are so small, and our customers are so niche, we can make some really brave choices in our selection," says Thao, Boa's co-owner. "If we ran a bigger store with more varied customers like Phuong Nam Book or such, then we probably would have to stock the popular, easy to sell varieties more. But as we are now, we can be the bookworms we want to be."
Looking at the rare editions and collectible titles it boasts, it's hard to believe Boa started out two years ago as an online forum to sell secondhand books. "Thuy and I started out on this tiny forum for English-language book lovers. We were just regular members and were just having fun sharing our obsession with like-minded people," says Thao. "By chance, Thuy had a relative in America who occasionally shipped her a book or two. She shared them online and before she knew it, people were asking her to order books for them and were willing to pay a little extra for her time. That was how Boa actually started out."
Thao, 24, and Thuy, 25, opened the bookstore using their savings. "A lot of people questioned our choice in business investment, our families included," shares the latter, who works a second job in a furniture company to finance their new venture. "This is, after all, the era of Kindle and digital texts so it probably seems a little unwise to put all your savings into a tiny book business dealing exclusively with physical foreign language books. But we just love books too much to do anything else."
For the first year, Boa was less a book business proper and more a nameless book ordering service favored by English literature students and teenagers. "We were students and broke. We could afford only 10 books per month and keep maybe 20 to 30 in stock at a time. That's how small we were."
Stranger Than Fiction
It took two years for Boa to get its proper name, storefront and become a bookstore. That they could grow from 10 books per month to an inventory of 10,000 titles in stock and a monthly addition of 500 new books is a testament to the growing community of English readers in Saigon.
"We owe this to the community's support," say the young owners. "Without their love and help, we wouldn't be here today, doing what we love and making a career out of it." To show appreciation to the community and to promote reading, in the first few months of the store's opening at the Turtle Roundabout, Boa ran a public reading project named Book Station.
"We got the idea from mini public libraries in other countries. We made this little redwood box by hand, stocked it full with English books and every day put it in the front yard of the restaurant downstairs. Anybody walking around the Turtle Roundabout could see it," Thao explains. "The rule is that everyone is welcomed to borrow the books inside provided that they bring one of theirs to replace the book they borrow. The book can be new or old and about anything, provided it is in decent condition."
Book Station was hugely popular until someone stole all the books in the box in broad daylight. "It came as a shock to us," says Thuy. "It never occurred to us that could happen. The spirit of the project is to make reading readily available to all kinds of people. We posted no guards and had no locks on the box. These books are secondhand. They aren't worth a lot. If you sell them all, maybe you will get enough for a cup of coffee and a bowl of pho. Whoever took our books could not have taken them for money. They could only have done it out of spite."
Since then, the redwood box has been shelved away to gather dust in a corner of the store. The two have received many offers to refill the contents but they are still undecided on Book Station's future.
"That does not mean we aren't going to do anything," the pair insists. "We have a few options open to us. Book Station 2.0 is always an option but we want to share our passion in a meaningful way with people who love books just as much as us. We have a couple of contacts in international schools in District 2 who won't say no to a donated Book Station box. That's one way to make sure our books are well loved and read."
* Images by Ngoc Tran