17/05/2019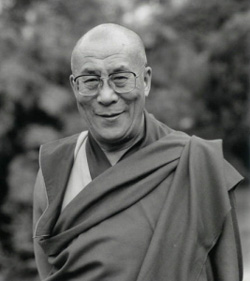 His Holiness the XIVth Dalai Lama, Tenzin Gyatso, is the spiritual and temporal leader of the Tibetan people. He was born in a small village called Taktser in northeastern Tibet. Born to a peasant family, His Holiness was recognized at the age of two, in accordance with Tibetan tradition, as the reincarnation of his predecessor the 13th Dalai Lama. The Dalai Lamas are the manifestations of the Bodhisattva of Compassion, who chose to reincarnate to serve the people. Dalai Lama means Ocean of Wisdom. Tibetans normally refer to His Holiness as Yeshin Norbu, the Wish-fulfilling Gem, or simply, Kundun, meaning The Presence.
Unlike his predecessors, His Holiness has met and talked with many Westerners and has visited the United States, Canada, Western Europe, the United Kingdom, the Soviet Union, Mongolia, Greece, Japan, Thailand, Malaysia, Singapore, Indonesia, Nepal, Costa Rica, Mexico, the Vatican, China and Australia. He has met with religious leaders from all these countries.
His Holiness met with the late Pope Paul VI at the Vatican in 1973, and with His Holiness Pope John Paul II in 1980, 1982, 1986 and 1988. At a press conference in Rome, His Holiness the Dalai Lama outlined his hopes for the meeting with John Paul II: "We live in a period of great crisis, a period of troubling world developments. It is not possible to find peace in the soul without security and harmony between the people. For this reason, I look forward with faith and hope to my meeting with the Holy Father; to an exchange of ideas and feelings, and to his suggestions, so as to open the door to a progressive pacification between people.".
In 1981, His Holiness talked with the Archbishop of Canterbury, Dr Robert Runcie, and with other leaders of the Anglican Church in London. He also met with leaders of the Roman Catholic and Jewish communities and spoke at an interfaith service in his honour by the World Congress of Faiths. His talk focused on the commonality of faiths and the need for unity among different religions: "I always believe that it is much better to have a variety of religions, a variety of philosophies, rather than one single religion or philosophy. This is necessary because of the different mental dispositions of each human being. Each religion has certain unique ideas or techniques, and learning about them can only enrich one's own faith."
Since his first visit to the west in the early 1970s, His Holiness' reputation as a scholar and man of peace has grown steadily. In recent years, a number of western universities and institutions have conferred Peace Awards and honorary Doctorate Degrees upon His Holiness in recognition of his distinguished writings in Buddhist philosophy and of his distinguished leadership in the service of freedom and peace.
During his travels abroad, His Holiness has spoken strongly for better understanding and respect among the different faiths of the world. Towards this end, His Holiness has made numerous appearances in interfaith services, imparting the message of universal responsibility, love, compassion and kindness. "The need for simple human-to-human relationships is becoming increasingly urgent . . . Today the world is smaller and more interdependent. One nation's problems can no longer be solved by itself completely. Thus, without a sense of universal responsibility, our very survival becomes threatened. Basically, universal responsibility is feeling for other people's suffering just as we feel our own. It is the realization that even our enemy is entirely motivated by the quest for happiness. We must recognize that all beings want the same thing that we want. This is the way to achieve a true understanding, unfettered by artificial consideration."