27/03/2019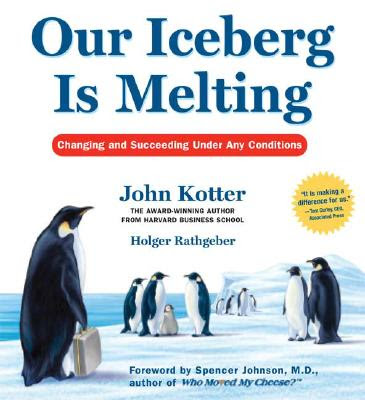 "Whether you work in a business or the business of life, everyone from CEOs to high school students can gain from what they take from this story."
––from the foreword by Spencer Johnson, M.D., author of Who Moved My Cheese?
In this day and age, #change is the only constant. Global economic uncertainties, socio-cultural shifts and technological breakthroughs make it necessary for organisations to adapt and transform themselves to remain relevant.
The question, however, is how one can drive change successfully in a stage littered with numerous failures.
Enter Harvard professor John Kotter, his collaborator Holger Rathgeber, and a fable about a penguin colony in Antarctica called "Our Iceberg is Melting".
With an invisible nod to fears of global warming, the highly charming tale weaves Kotter's eight steps of leading change to the lives of a group of emperor penguins. The escapades of avian characters like Fred, Alice, NoNo, the Professor, Buddy and head bird Louis are portrayed in vivid fashion with each playing a different role in the penguin organisation.
Faced with a seemingly inevitable disaster of a melting iceberg on which their home was built on, the penguins employed different ways to set the stage, decide on what to do, make it happen, and make it stick.
Through the clever use of metaphors and analogies – penguin chicks as junior staff, parent penguins as middle management, and the leadership council as senior management – Our Iceberg is Melting provides a compelling read for anybody driving change in an organisation. The use of practical approaches such as "iceposters" to communicate change and "hero medals" to acknowledge penguin scouts can easily be translated into human equivalents in the corporate world.
buy book buy english book in Ho Chi Minh City buy Our Iceberg is Melting BOA Bookstore mua sách tiếng Anh mua sách Our Iceberg is Melting change leadership book business book