28/03/2019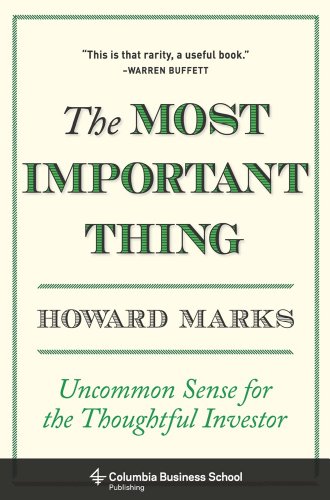 If Warren Buffett, Christopher Davis, Joel Greenblatt and Seth Klarman recommend a book, it might—just might—be worth reading. Actually, Warren Buffett calls Howard Marks' The Most Important Thing "that rarity, a useful book."
For those unfamiliar with Howard Marks, he is the Chairman and cofounder of Oaktree Capital Management, an investment firm with $77 billion under management.
Marks gives us the insightful thoughts of a man who struggles with his own investing decisions on a daily basis. There are no shortcuts, formulas or easy tricks. But there is a wealth of experience and thoughtful contemplation from a real "in the trenches" investor who has been doing this a long time.
Marks starts the book with a chapter on "second-level thinking". You have to think beyond the obvious (first level thinking). The first level thinker sees favorable circumstances and decides to buy. The second level thinker sees that the investment is over hyped and too expensive to provide a margin of safety. The first level thinker sees unfavorable circumstances and decides to sell. The second level thinker sees that investors have panicked and driven the price to bargain levels and buys.
More than that, Marks talks about the difference between growth and value. Growth is a bet on the future, an uncertain future. Therefore you may be paying for something that does not materialize. Value is more consistent. Paying less than something is really worth today is less of a risk than guessing what will happen in the future. The best value is when you can buy growth at a value price, but that may not always be available.
Next, he discusses about risk: understanding risks, recognizing risks, and controlling risks. Most investment managers fail because they are too aggressive; not because they are too careful. Trying to make above average gains through taking on more risk is a fools game for most investors.
The risk that matters is the risk of permanently losing your principal. Risk control is the heart of defensive investing. Put a heavy emphasis on not doing the wrong thing.
The key to investment success is getting the price and value relationship right. There is no way to know what the future holds, so insisting on a margin for error is the best approach to adding value. The larger the margin for error the higher the probability of success.
mua sách ngoại văn buy The Most important thing buy business book buy investment book buy finance book buy Howard Marks book